The old saying love knows no bounds certainly rings true for rugby ace Tadgh Bernie and Harriet Fuller.
Not even an ocean and opposing country ties could separate these two lovebirds who have been inseparable since they first met five years ago.
As Tadgh takes to the pitch to kick off Ireland's 2023 Guinness Six Nations hopes, we thought it was the perfect time to look back at how their love story unfolded.
Here's how they met…
How They Met
Tadhg met the Welsh woman on a night out at the 10 Mill Lane bar in Cardiff in 2018 with very unfortunate timing.
The now 31-year-old had just returned to Ireland to play for Munster after two years playing for Welsh side Scarlets meaning their relationship was a long-distance one from the get-go.
Harriet commemorated their first meeting on their one-year anniversary with a picture of that fateful night and wrote: 'Throwing it back exactly a year ago to the very first night we met @beirney25 #drunkmonkeys #smittenkittens'
Sparks clearly flew between them and they made the relationship work despite the distance.
Harriet travelled across the Irish sea several times to visit before taking a leap of faith and deciding to relocate here early into their relationship.
They moved in together and got a fur baby, named Pig, and spent the next few months posting loved-up pictures of themselves at various scenic spots around the country.
Popping the question
When lockdown hit Harriet wrote of how she was 'blissfully cocooned' with Tadhg while he spoke of how it was a special time for the couple as it allowed them to spend more time together than they usually would.
By the time Christmas rolled around that year Harriet got a very special present. Tadhg popped the question after two and a half years of dating before whisking her away for a romantic getaway to Adare Manor in Limerick.
'The man of my dreams asked me to marry him' she announced and added that he had gotten down on one knee under their Christmas tree
Tadhg also couldn't resist sharing the happy news and wrote: 'Making 2020 one to remember, feeling very lucky.'
Wedding planning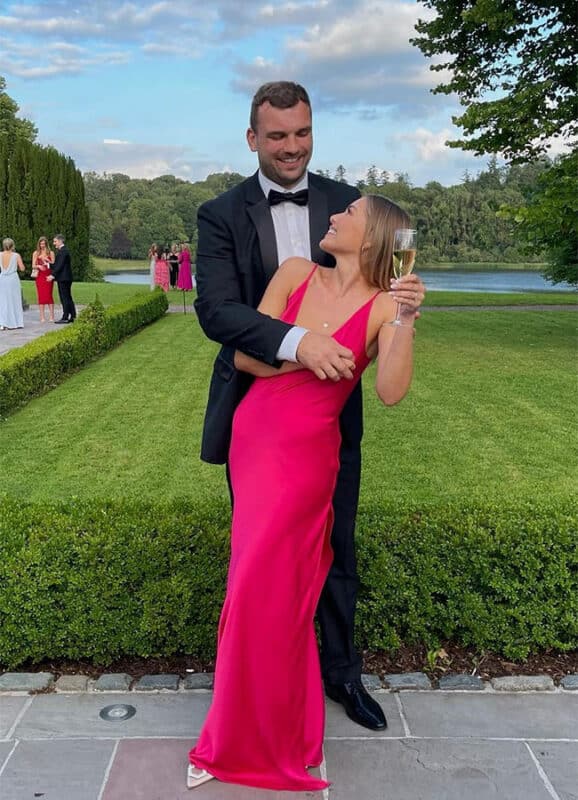 As the wedding prep got underway, tidbits about their special day emerged. Tadhg and Harriet set their hearts on exchanging vows at Kilkea Castle in his native Kildare.
If that's ringing a bell it's probably because it's the same spot where Kathryn Thomas tied the knot in 2019. Last July, Harriet teased a picture of herself collecting her wedding gown which she appeared to have snapped up from The Wedding Club in the UK.
The pair could barely contain their excitement as they stepped out for Andrew Conway and Lizzie Quinn's big day last summer.
Pictures from the day show them looking more loved up than ever while Tadhg posted that he was #gettingexcited' for his own big day.
Tying the knot
Before they knew it the couple were celebrating their big day.
Harriet looked utterly radiant in an off the shoulder ivory gown with a fitted bodice that seemingly melted into a full skirt and train. She also wore a sweeping veil with her hair pulled into a classy chignon showing of her beautiful features.
Tadhg meanwhile, didn't scrub up too badly himself! He looked dashing in traditional tuxedo with a black dickie bow that was complimented by his four groomsmen, who also looked the part.
Friends and family travelled from all over to be with the couple on their special day including a bus load of Harriet's 'bride squad' from Wales.
Tadhg's model sister Alannah meanwhile made the trip home from Tasmania in Australia where she has based for the past few years and has been happily posting about 'the wedding of the year.'
There were smiles all round as the happy couple and their families and friends couldn't hide their delight as they partied the night away- at one point the bride even climbed up on groom's shoulders for a bop!
See more pictures in the gallery below: