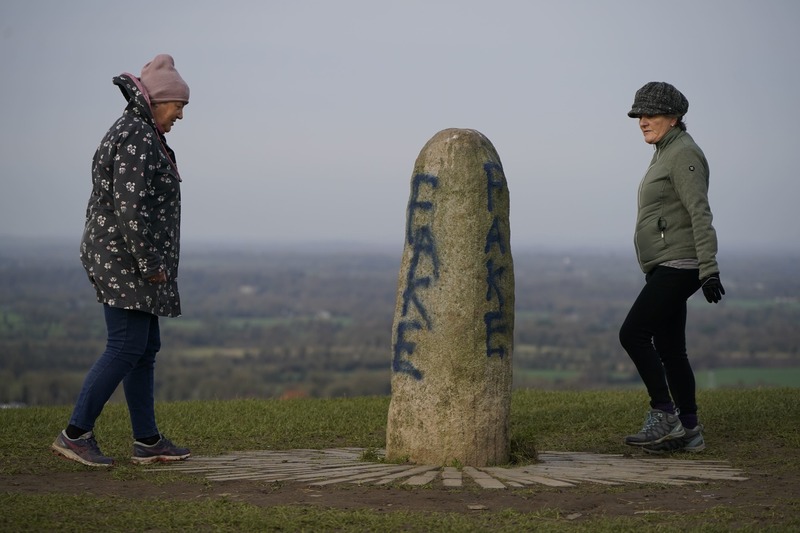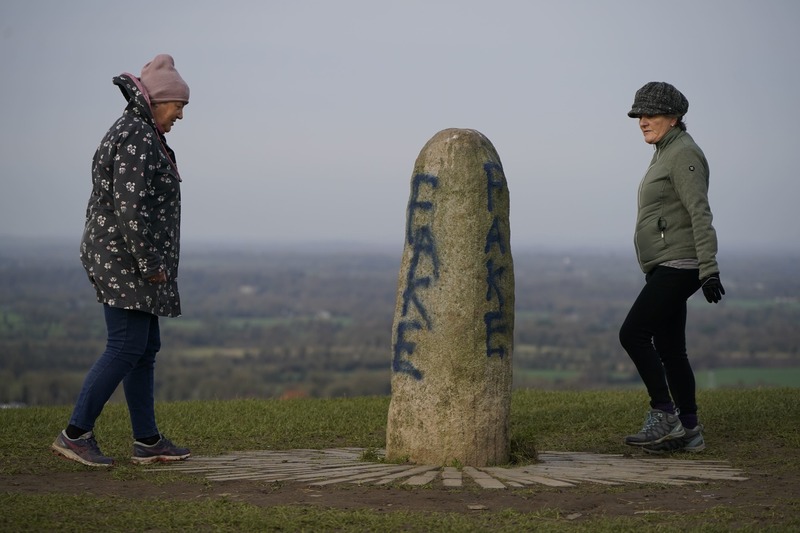 THE VANDALISM OF a 5,000-year-old monument in Co Meath has been condemned by a heritage group as "mindless" and "ugly".
The Lia Fáil standing stone, located on the Hill of Tara, served as the coronation stone where all the high kings of Ireland were crowned up to the year 500.
Yesterday, gardaí received a report of criminal damage done to the Lia Fáil, which can be translated from old Irish to mean 'stone of destiny'.
The word "fake" has been spray-painted in capital letters on all four sides of the granite monument.
Members of the National Monuments Service and the Office of Public Works attended the scene this morning.
Workers were seen using a steam cleaner to slowly clear off the graffiti under the supervision of representatives of the National Monuments Service.
"It's understood graffiti damage was caused to the stone sometime between Monday evening, 6 February and Tuesday morning, 7 February," gardaí said in a statement.
"Gardaí at Navan have commenced an investigation and are appealing for information."
Ian Lumley of the heritage organisation An Taisce told the PA news agency that what happened on Tara was "probably the worst example yet of this increasing vandalism and mindless use of spray stuff".
"It's already infesting our towns and cities, but this is attacking a monument of huge historical and mythological significance to one of the things that unify us – our ancient Irish culture that is part of our national identity."
Lumley said that vandalism of historic buildings and heritage monuments with aerosols was becoming more frequent.
"We're seeing it's an absolute scourge in our cities and larger towns on historic things, particularly when you get a stone like granite – once it's sprayed with these horrible aerosols, it's much more difficult to remove.
"You need expensive elaborate chemical treatment, you've got to make sure if you're dealing with an historic piece of sculpture or stonework, that in cleaning off the vandalism paint that you don't damage the stone or the monument in the process."
He added: "It's not just archaeological, historic monuments being targeted, there's increasing concern about graveyards and cemeteries.
"There been some very unpleasant cases of gravestones; these would be tombs in graveyards in active use by their family members.
"Imagine the shock of going to visit the grave of your mother on her funeral anniversary and find it sprayed."
He suggested that the sale of aerosol spray cans should be limited to tackle what he called the "ugly, ignorant", "mindless vandalism" that is "a pain in the neck" to remove.
"There's also a problem that this stuff is too easily available, these aerosol spray cans, which are being sold far too easily to people that a lot of the retailers must know they're not using them to do restoration of a metal body, a motorcycle or whatever may be a legitimate use for them.
"There's clearly a massive amount of this stuff being being sold over the counter.
"We should learn from this," he added.
"This isn't just about Tara, Ireland is blessed and enriched with a great legacy of monuments, from ancient tombs to medieval churches to more ordinary, more recent things that we need to protect and care for and be more vigilant, and within communities, do our best to clamp down on this sort of vandalism."