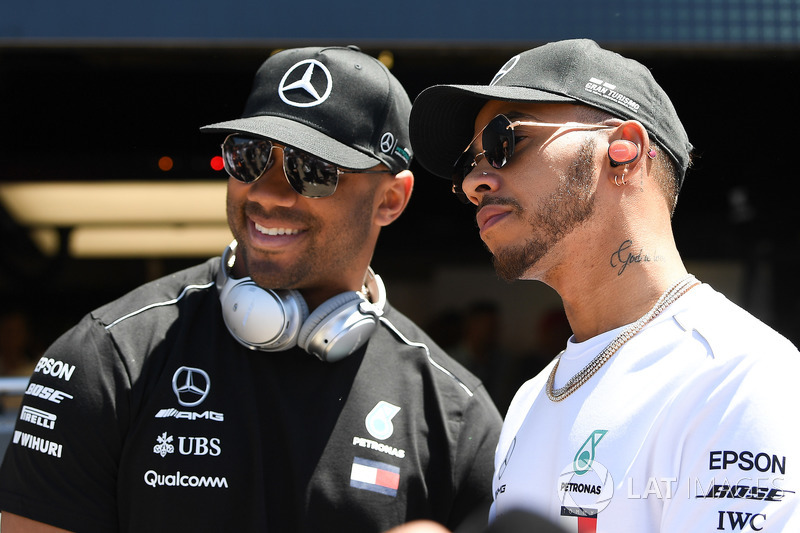 The Mercedes driver is a minority owner as part of the Walton-Penner group that bought the three-time Super Bowl-winning Broncos in 2022 – led by Walmart heir Rob Walton and Greg Penner, the retail giant's chairman, and his daughter Carrie – in a massive $4.65billion deal.
There are two other minority owners that complete the Broncos ownership group – former USA secretary of state Condoleezza Rice (who grew up in Denver and attended the University of Denver) and Mellody Hobson, co-CEO of Ariel Investments (a Minority Business Enterprise investment company and chairperson of Starbucks, a bonus fact being Hobson is married to Star Wars creator George Lucas).
Hobson's Ariel Investments MBE status means it is at least 51% owned, operated and controlled by an ethnically minority person in the USA (African American, Native American, Hispanic American or Asian American or Pacific Islander) and advancing Black Equity and diversity overall is a key reason Hamilton says he took the opportunity to buy into the Broncos.
The Briton started his Hamilton Commission and Mission 44 initiatives in recent years as part of his drive to address the lack of diversity in motorsport and its associated industries.
Via his new access at the Broncos, Hamilton can directly assess the impact of changes enacted in the NFL to try and improve diversity in many areas in a sport where that has long been a problem – perhaps famously regarding representation of minorities and women in coaching positions, with the sport also played by a majority of black athletes – with mandatory requirements in hiring and selection processes.
NFL teams are also giant franchises that turn over billions in revenue each year, with their owners wielding huge power over how the championship functions (they vote to decide rule changes, much like FOM and the FIA typically needs agreement from F1 teams when it comes to altering elements of grand prix racing).
Hamilton's new venture with the Walton-Penner group means he can "speak to them and learn from them" at a pivotal time in his life, when he has made improving diversity in his working sphere and Black Equity generally a top priority.
Hamilton is tipped to sign new Mercedes deal but has also been considering his post-F1 future
Photo by: Mark Sutton / Motorsport Images
The 38-year-old is expected to sign a new contract with Mercedes this year that could result in him racing well into his 40s, but Hamilton has long made it clear he intends to forge a successful subsequent career when he does retire from racing.
In addition to his Broncos investment, he owns the X44 Extreme E team plus maintains his long-standing links to the fashion and music industries.
While Hamilton expects to gain valuable insight from his Broncos business partners, Walton said that having the seven-time world champion as part of the team's ownership group means the F1 legend's "resilient spirit and standard of excellence will be an asset" given his proven history of success.
Although the elongated modern F1 schedule drapes across the majority of the NFL's regular season, Hamilton was able to watch the Broncos play in person at one stage during the 2022 campaign – the team's 19-16 defeat to the Los Angeles Chargers at SoFi Stadium in Los Angeles.
The Briton said visiting the Broncos there had also helped him realise the potential gains he could make by learning about the players' "athlete performance" work.
"That experience was incredible, to just be in that huge arena," Hamilton said at last year's US Grand Prix.
"Firstly, the stadium is amazing but just to see a different group of fans – all with the similarities of the fans that we have here, just passionate about their team, right on the edge of their seats for every single play.
"And then for me, just like speaking to the coach, speaking to the players, and speaking to the rest of the owners, about the takeover, about the challenges that we have, the things that we need to improve on, like our offence. Our defence is really strong but our offence is quite weak at the moment.
Hamilton has previously welcomed NFL star Russell Wilson to F1 events
Photo by: Bose
"You've got Russell [Wilson, Denver quarterback] that's new to the team and he needs more protection. He's still getting to know a lot of the players around him.
"And so yeah, I like getting super deep into all that kind of stuff.
"And also into athlete performance because these guys are huge. Some of the guys are over 300 pounds, they're massive – wouldn't want those guys to hit you.
"Then just looking into how I can play a role with that team in terms of supporting them and also the things that we're going to do with D&I [Diversity and Inclusion] within the community in Denver."
The 2022 NFL season concludes with Sunday's Super Bowl game between the Kansas City Chiefs and the Philadelphia Eagles, with the Broncos having missed the post-season playoff mini-tournament after Wilson, Hamilton's friend who attended last year's Monaco Grand Prix, struggled in his first season with the team.
The Broncos subsequently fired former head coach Nathaniel Hackett – brought in before the Walton-Penner group takeover – and have now hired Sean Payton, who won Super Bowl 44 with the New Orleans Saints and is considered to be an offensive genius coach capable of getting Wilson back to his best level.
Much like in motorsport, making meaningful change takes time in the NFL, with the coming off-season a time that both the Broncos and Hamilton can mutually benefit from their new partnership – with the Briton clear his off-track ventures have long provided a boost that in turn improves his racing.