Dancing with the Stars 2023 will certainly go down as a year of style and class and we are not just talking about the celebrities taking to the dance floor.The presenters are killing it with their outfits!
When Doireann Garrihy joined the show, little did we know that both she and co-presenter Jennifer Zamparelli would blow our minds each week with fabulous clothes.
They have worn dresses, suits and catsuits and looked fantastic- but in fairness they would make a black sack look good.
We are a good few weeks in now, so EVOKE has decided to highlight some of the outstanding outfits by the presenters-some you may have forgotten.
1. Opening Night
Who can forget the opening night as the girls made their entrance. Giving a 1920's sparkle dress they showed off their moves and some ever thought they should be dancing in the show.
2. On Sundays we wear pink
Glitz and glam, pink and glitter are not only for the contestants. The girls showed off their inner sparkle.
3. Pants and leopard loving dress
We don't know which one we love more. The comfy style of Jennifer or the combination of feathers and leopard skin.
4. Lights, Camera, Action
It was movie week and these girls certainly looked like superstars. Ice blue for Jennifer, with a one side slit. While Doireann went for the complete opposite. Over the knee, purple sparkle. We love it!
5. We're starting to see a pattern
On week four, we realised Doireann has a thing for print. Both wearing over-the-knee dresses both girls once again made us fall in love with their style.
We can't wait to see what will be pulled out of the wardrobe.
6. High street hotties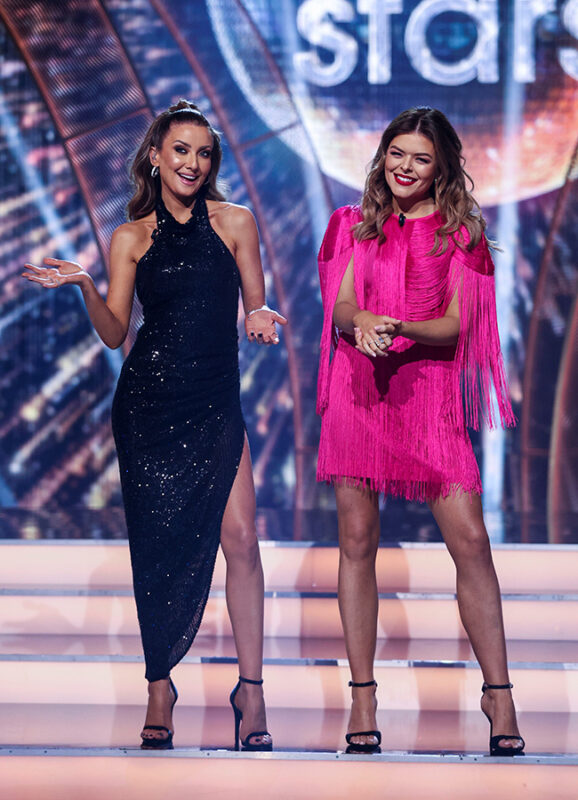 With Valentine's day just a few days away, Doireann decided that dedication week was the perfect excuse to don a gorgeous pink tassled number from Warehouse teamed with Special edition Valentine shoes by Carvela.
Jen paired a Retrofête sparkly black number from Harvey Nichols with some classy shoes from Office.
Check out our Dancing with the Stars Gallery below of the weeks gone by:
You Might Also Like
Twitter angry at DWTS judges as they come down hard on Stephanie Roche