We've seen Doireann Garrihy and her new other half Mark Mehigan on socials a few times now and let's be very real they make a very cute couple but that only means one thing: we want to know more.
The two made things official late last year after more than a bit of speculation, by posting a sweet Christmas snap in front of a tree dressed up to the nines.
Following her split with long-term boyfriend Paddy Wilson last April, Doireann had kept anything to do with her love life under wraps, understandable considering she was already having a big year with her new Dancing With The Stars gig, she had enough going on.
Yet all good things need to come to light eventually and their big debut was made (although apparently there was a soft launch we missed) but who exactly is Mark?
Who is Mark Mehigan?
A good place to start, who is the man who stole Doireann's heart? Born in Cabinteely Dublin and later moving to Foxrock the 32-year-old made a name for himself in comedy.
He didn't start off as a comedian, it turns out his first love was music, at age 23 he spent time in Los Angeles working with Westlife singer Mark Feehily on music.
And he must have been good, the Dubliner has a writing credit on the same album as Joni Mitchell, yes that Joni Mitchell the one behind Both Sides Now according to The Sunday Times.
Then he found himself on the move once again this time to London to work as a writer for the BBC back in 2015 but moved back to Ireland in 2021.
The funny man really made a name for himself when a video he made started going viral on social media wracking up tens of thousands of likes and comments.
So what was the clip about? Funnily enough, he spent the whole thing giving details of a fictional girlfriend called Susie who had just been sent to St Vincent's Hospital because she was 'literally dying.'
He's not stopped his climb into the spotlight, one of his most recent videos has 108,000 views.
From here he's just gone from strength to strength selling out a tour and hosting his podcast The Sunday Roast and when he's not doing that he's calling on his 32,500 followers to give him suggestions on what to slag off.
On top of a thriving career he has another big achievement in life to celebrate, last October he marked one full year of sobriety, saying at the time, 'asking for help was the best thing I've ever done,' to The Times.
Meeting Doireann:
Though the couple has been relatively private about how they actually got together it seems that things started to get serious late last year when they were spotted out and about.
Doireann and Mark were seen together around the festive season enjoying a romantic night away at the five-star Powerscourt Hotel in Enniskerry.
Things only seemed to get more serious when the two were spotted walking Doireann's beloved pup Bertie in Dun Laoghaire, and supporting Mark at gigs this year.
Then there was the Christmas tree picture that we mentioned before that let us all know they were most definitely an item.
How are they now?
Safe to say better than ever! Mark has been supportive of his girlfriend during her big career move to Dancing With The Stars sitting in the audience to cheer her on.
The comedian shared a sweet snap of them hugging on stage where Doireann looked sensational in a pink Warehouse dress and special edition Valentine shoes by Carvela.
Then over the bank holiday weekend, even more, adorable pics were posted when the two made the most of their time off spending time in Dublin together.
We can't take the cuteness!
You Might Also Like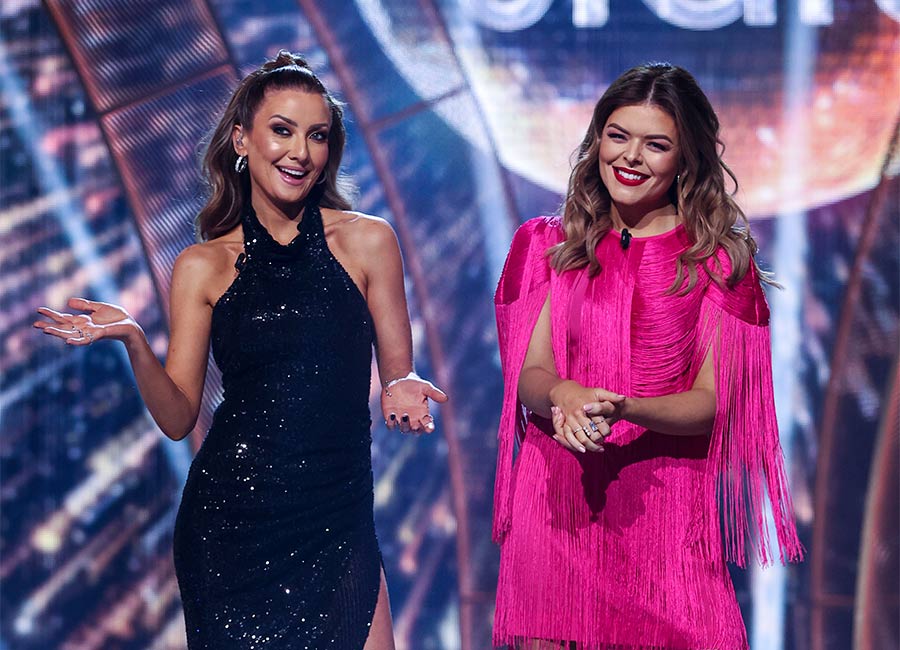 Steal Her Style: Doireann Garrihy's fringe Warehouse dress is on sale